Gloucestershire Airport (GLO, EGBJ) Glos Webcam
Live webcam streaming from Gloucestershire Airport (IATA: GLO, ICAO: EGBJ) at 51°53′39″N 002°10′02″W.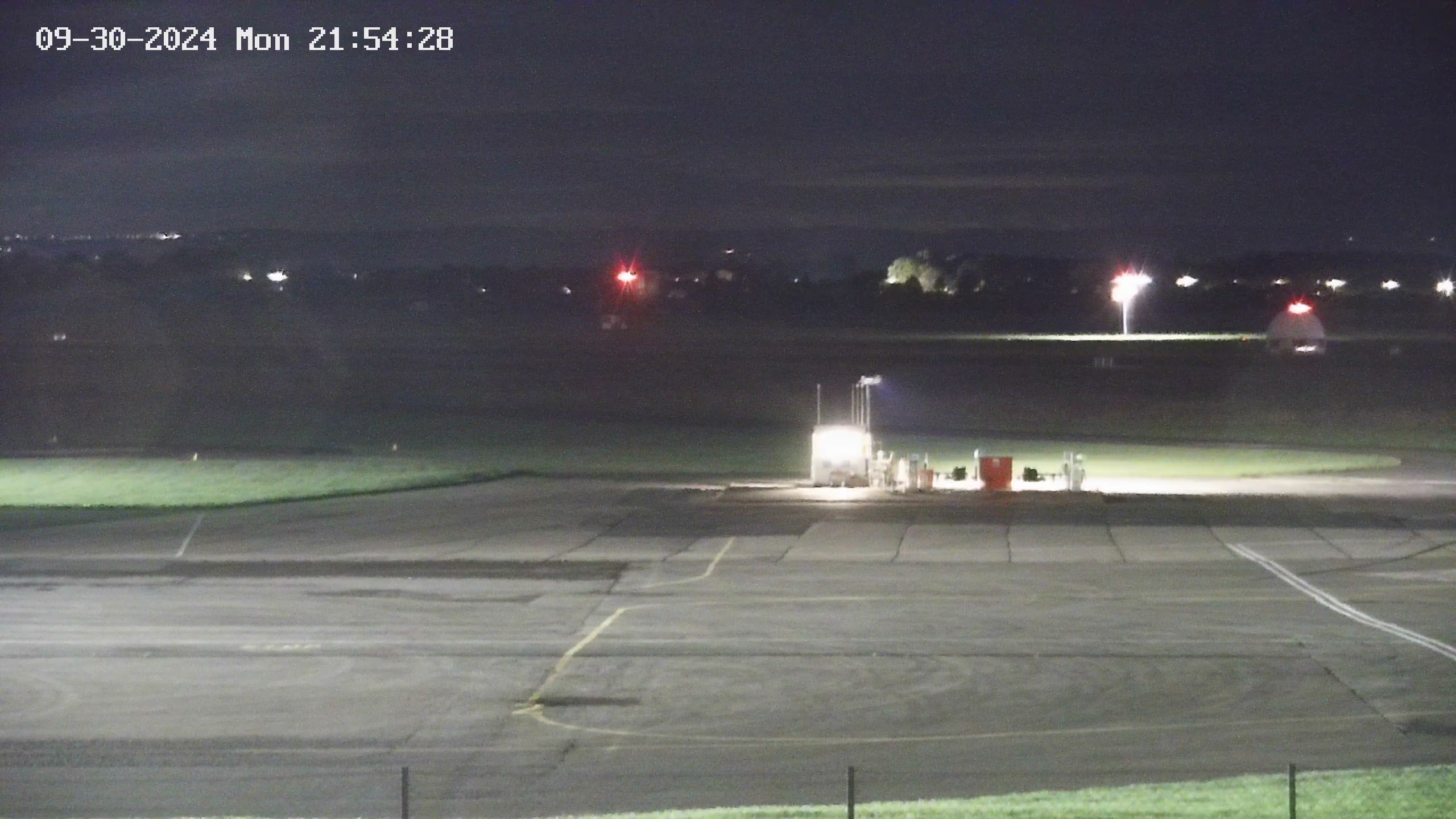 Looking for an unforgettable Christmas present?
Try something different this year – a trial helicopter flight lesson.
Experience flying a real helicopter and take to the skies!
Gloucestershire Airport (IATA: GLO, ICAO: EGBJ), formerly Staverton Airport, is located at Staverton, in the Borough of Tewkesbury within Gloucestershire, England. It lies 3.5 nautical miles (4.0 miles) west of Cheltenham, near the city of Gloucester and close to the M5 motorway.
The airport is regularly used for private charter flights to destinations such as Jersey and Guernsey. Between 2013 and 2017, Citywing operated scheduled flights from the airport, describing it as "Gloucester (M5) Airport" and marketing it as an alternative to Birmingham Airport, Bristol Airport and to a lesser extent Oxford Airport. This is due the airport's ease of use and fast handling of passengers, compared to its larger counterparts.
Gloucestershire Airport Weather
Our Glos Airport webcam above gives you a good indication of the live weather situation at the Gloucestershire Airport. The webcam's default direction is 255 degrees ie just off due West.  To give you a sense of the weather's visibility – if you can see them the trees in the near ground they are approx 1 mile away and the Forest of Dean hills in the distance are approx 10 miles away.
For a set of live, local weather forecasts with detailed wind speed, wind direction, atmospheric pressure as well as cloud/ sun cover, rainfall levels and temperatures for the next 48 hours- please see our weather forecast page.
Gloucestershire Airport Technical Details
Listed by IATA as GLO and ICAO as EGBJ. At 51°53′39″N 002°10′02″W.
Elevation above mean sea level 101 ft / 31 m
Asphalt Runways:
Direction
Length
M
Feet
09/ 27
1,431
4,695
04/ 22
988
3,241
18/ 36
799
2,621
Helicopter Pilot Training PPLH at Gloucestershire Airport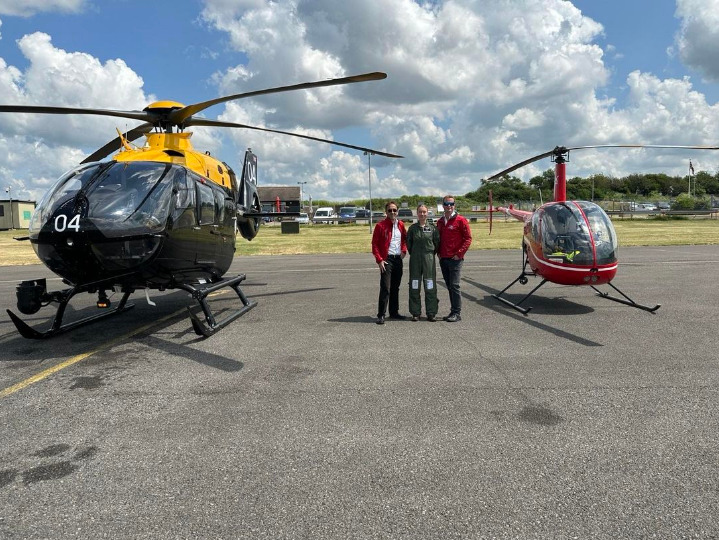 The James Kenwright Flying School which is based at Staverton, Gloucestershire Airport has successfully trained every sort of helicopter pilot from teens to OAPs, men and women – and includes Royal Navy pilot Holly Griffiths.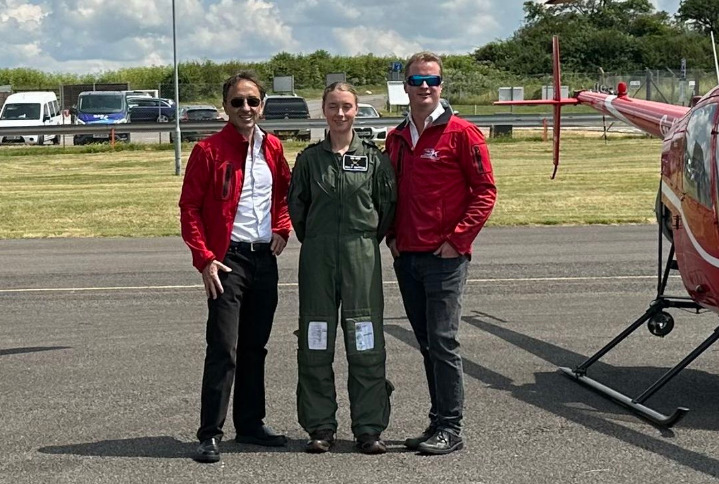 Holly Griffiths (RN) drops in with the Eurocopter 135 to see her old friends G-JKAT – who trained her to pass her Helicopter Licence PPLH.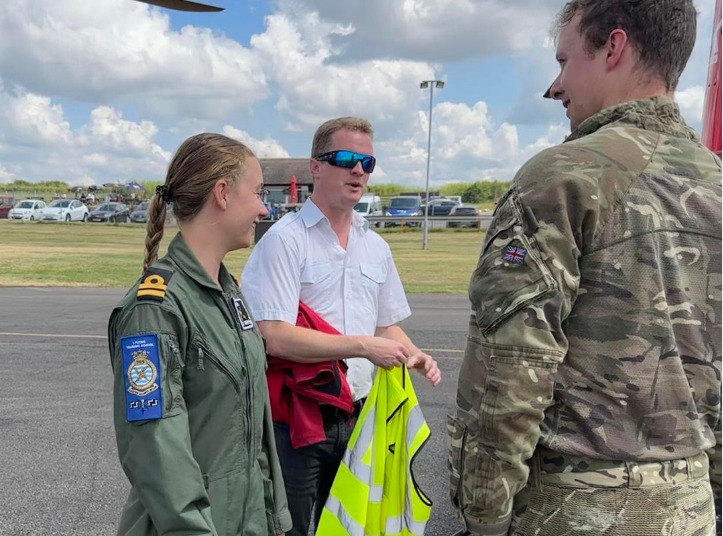 James has nearly 30 years of helicopter training expertise so can help you fly and pass with his calm, calculating character and style. Which reassures everyone who wants to explore the joy of flying a magic carpet- which needs no runway, can land anywhere and is far more flexible than fixed wing aircraft.
You too can live your helicopter flying dream! What have you got to lose- your trial lesson will even be included in your PPHL logged flying hours with the James Kenwright Flying School?
Just call James Kenwright now on
07900 680859- but please be patient if he doesn't immediately pick up as he may be flying.