Another helicopter pilot has passed her PPLH test with the James Kenwright training school.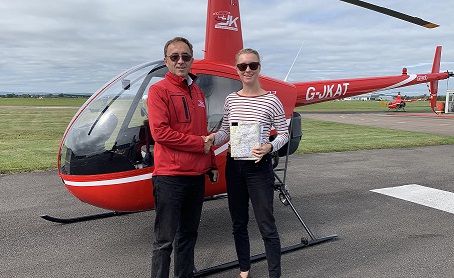 After passing her PPLH – Holly Griffiths volunteered the following unedited review of her progress:
"JK Helicopter Training is one of the best places to do your PPL (H). I did a lot of research before choosing a school and I can say I am very happy with my choice.
I came to James Kenwright (the owner and lead instructor) with a proposition: to get me my PPL (H) in 3 weeks. Which is pretty unusual. He said we can definitely try.
My main instructor was Ewan. He is a great teacher with a very calm and positive attitude to teaching. Ewan worked tirelessly all week and all weekend, juggling his other students and myself. I would fly 3 + hours a day and study for the ground exams in between. I also had Leigh for one day to give Ewan a break and he was also an excellent instructor.
The school help you book everything: medical and RT exam. James also meticulously compiles all your paperwork for your PPL(H) to be sent off to the CAA, ensuring everything is documented correctly. So they will help you with all of the admin necessary to complete your PPL (H).
The atmosphere at the school is great. Old students frequently come in to hire helicopters and ask how you are doing and give you hints and tips. You are also able to mix with other new students so you can have the inevitable conversation of 'hovering is hard isn't it?'. I would describe this more as a club rather than a school, of nice, like minded people. And once you go solo, you get presented the coveted red jacket and become part of the club.
All in all, I completed my PPL (H) in 3 weeks and 1 weekend (unfortunately due to weather). So that was approximately 19 days of flying and 53 flying hours. I cannot recommend this school enough for doing a PPL (H). James also gives you the best rates he can, unlike any of the bigger schools which may say 'You can complete your PPL (H) for ~£17,000 ' but that is based on 45 hours and that is only achieved by perhaps 1% of students who are very young or who have, of course flown before. So when you are budgeting I would allow for at least 60 hours and if you are under that then great."
Do these credentials inspire confidence in his ability to help you qualify for a helicopter licence? If so please ring him now on 07900 680859 or please click on the learn more button. Either way he'll happy to answer any questions which you might have.