Gloucestershire Airport Webcam is now listed on the Airport Webcams site.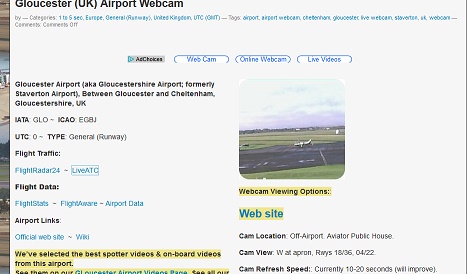 Many thanks to Paul Fisher at Airport Webcam for his suggestions and assistance.
The Glos airport webcam is at: http://airportwebcams.net/gloucester-uk-airport-webcam/
Airport Webcams now has more than 1,700 webcams – the largest database of airport webcams online – AirportWebcams.net is the primary source for viewing LIVE airport webcams by country, timezone, type of airport, camera speed and more. Use the menus above to get started. More cams are added regularly, so please bookmark the site and check back often.
Each entry has all known links to an airport's webcam, plus links to live air traffic control radio and flight radar maps, flight schedules, official airport web sites and pilot data.