James Kenwright flying a helicopter over Cheltenham Racecourse during the November 2017 meeting.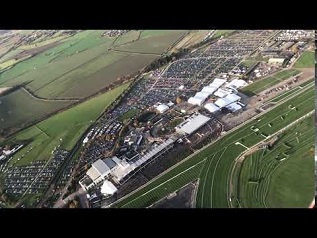 Helicopter Pilot Training instructor James Kenwright flying a helicopter over the Cheltenham Racecourse this afternoon.
Gloucestershire Airport (IATA: GLO, ICAO: EGBJ), formerly Staverton Airport, is located at Staverton, in the Borough of Tewkesbury within Gloucestershire, England. It lies 3.5 nautical miles (4.0 miles) west of Cheltenham, near the city of Gloucester and close to the M5 motorway.
Based at Gloucestershire Airport the James Kenwright Helicopter Flying School have over 27 years expertise in helping pilots to pass their PPL(H), Type Rating, Night Rating, CPL(H) and have many happy people who can recommend them as "highly skilled, quality helicopter training instructors".
Then please look no further for the best- PPL (H) Helicopter Pilot Training at Gloucestershire Airport.