Have you ever fancied learning how to fly a helicopter?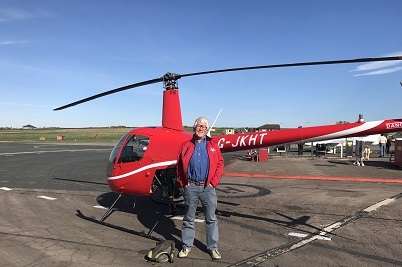 Learning how to fly a helicopter might seem daunting – but there are some ways to make the process easier. The best is probably finding a friendly, professional helicopter training pilot with decades of experience of helping people like you safely pass their PPL(H).
James Kenwright at JK Helicopter Training has just received this message:
"I have been flying aeroplanes for over 10 years, and then last year decided to learn to fly a helicopter. On a chance visit to Gloucester I booked a trial lesson with James. I was hooked and decided to continue, even though I live over three hours drive away. Over the years I have experienced many flying schools and I can confidently say that the team at JK is among the best; not only with great instruction but in the way that they look after their current and past students. Best of all I always feel welcome whenever I visit. I couldn't recommend them more!"
Alan Barker
Do you fancy learning to fly a helicopter? And joining Alan Barker as the latest new pilot of the team to qualify for his exclusive JKHT jacket.
Based at Gloucestershire Airport the James Kenwright Helicopter Flying School have over 27 years expertise in helping pilots to pass their PPL(H), Type Rating, Night Rating, CPL(H) and have many happy people who can recommend them as "highly skilled, quality helicopter training instructors".
Then please look no further for the best- PPL (H) Helicopter Pilot Training at Gloucestershire Airport.